What is Autism?
Autism, or autism spectrum disorder (ASD), refers to a broad range of conditions characterized by challenges with social skills, repetitive behaviors, speech and nonverbal communication.*
We now know that there is not one autism but many subtypes, and each person with autism can have unique strengths and challenges.
A combination of genetic and environmental factors influence the development of autism, and autism often is accompanied by medical issues such as:
Gastrointestinal (GI) disorders

Seizures

Sleep disturbances
Autism affects an estimated 1 in 59 children.
Many people with autism also have sensory issues. These can include aversions to certain sights, sounds and other sensations.
What Does It Mean to Be "On the Spectrum"?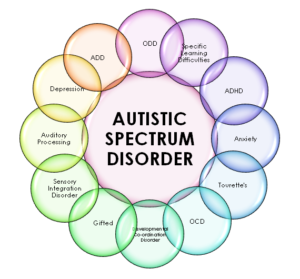 Each individual with autism is unique. Many of those on the autism spectrum have exceptional abilities in visual skills, music and academic skills. About 40 percent have average to above average intellectual abilities. Indeed, many persons on the spectrum take deserved pride in their distinctive abilities and "atypical" ways of viewing the world. Others with autism have significant disability and are unable to live independently. About 25 percent of individuals with ASD are nonverbal but can learn to communicate using other means. Autism Speaks' mission is to improve the lives of all those on the autism spectrum. For some, this means the development and delivery of more effective treatments that can address significant challenges in communication and physical health. For others, it means increasing acceptance, respect and support.